I'm not very good at writing about myself so apologies if I waffle a bit! Tomorrow morning I'll be leaving Gloucestershire at the crack of dawn to head to Hatfield House in Hertfordshire for the Game Fair and the culmination of 12 months soul-searching, blood, sweat and tears - the grand finale of Shaping Up For Tweed 2017!
For those of you who follow me on Social Media you'll have a pretty good idea of what SUFT is but for those of you who don't this blog will bring you up to speed!
So let's rewind to July 2016.
I wasn't happy with my weight, but I wasn't really motivated to do anything about it until a photo taken by a colleague put things in perspective. Looking at the physical proof, I was embarrassed by my weight and my appearance. It was a bit of a wake up call!
In addition to my photography I have a full time job based in an office which has no shortage of cake, sweets, crisps etc doing the rounds coupled with regular offerings of pizza it was hardly surprising that my weight had reached nearly 18st and I was struggling to get up the stairs without being out of breath. You can imagine my struggles out beating especially where hills were involved not to mention not being able to find clothes to fit! My body and health were suffering something had to change!
For those who know me personally, my life can be pretty hectic - I needed to find a solution which worked around my various commitments. I needed something with some structure that I could stick to so decided to try Slim Fast 3-2-1 plan. 3 100 kcal snacks, 2 meal replacement shakes or bars and 1 600 kcal main meal - luckily my regular Gousto boxes had plenty of quick low calorie but filling options which was a real benefit.
I started tracking my daily calories online using MyFitnessPal to keep me on track and soon started noticing that I wasn't as tired and definitely had more energy when walking the release pens each evening which was a great way to boost my daily steps. Sitting at a desk from 9-5 isn't great for your recommended 10k steps a day!
By September I had started losing weight but I was becoming disheartened by feeling constantly hungry. There were evenings where I'd have to take myself up to bed to prevent me raiding the kitchen and eating everything in sight. I was on the verge of giving up!
I happened to stumble upon a Facebook post by Kate Latimer-Matthews, a local taxidermist and milliner. Together with Emma Brown of Emma Brown Tweed, they had challenged a friend to get to her desired dress size by the Game Fair in July 2017 in return for a piece of Emma's tweed and a head piece made by Kate. Not only were the ladies supporting my friend they were willing to support three other ladies in reaching their weight loss goals. So #ShapingUpForTweed was born! This was just the sort of incentive and motivation I needed to keep going especially with the new shooting season just around the corner! Could I get to a size 12 from an 18-20 in under 12 months? I didn't know but I'd give it a bloody good go!
Part of the challenge was for participants to share their journey across Social Media via Facebook, Twitter and Instagram by using the #ShapingUpForTweed. I decided to take this a bit further and created the private Facebook group Shaping Up For Tweed so that other participants could contribute in a shared place and make it easier for Emma and Kate to track our progress. Within the group we were able to share our tips, failures and support each other on our individual yet shared journey.
By my 31st birthday at the end of October, I'd reached my first mini goal of 16st. I booked all my remaining annual leave to coincide with shoot days so that I could go beating and started to move towards calorie counting instead of Slim Fast and choosing healthy alternatives instead. I'd started to change my entire mindset and lifestyle!
Christmas came and went and I started the New Year at 15st, had joined the Gym and started going back to Zumba after a five year break (I'm still the most uncoordinated person in the world). I'd even worn a dress to our village New Year's Eve celebration and didn't feel self-conscious. I'd lost enough weight to finally fit into a pair of standard leg Le Chameau leather lined wellies - non scale victories can be a real boost!
A few days into 2017, I got a call I had been dreading, my wonderful aunt had lost her battle to cancer. The next day I started running and with the aim of taking part in the Dorothy House Bubble Run in her memory in June. Amazingly I'd been bitten by the running bug! I signed up for more runs including Pretty Muddy, Race for Life and even Cheltenham Challenge 10km! I wanted to do her proud and know that I have done that whilst raising nearly £500 to date for Dorothy House Hospice with more 10km races scheduled.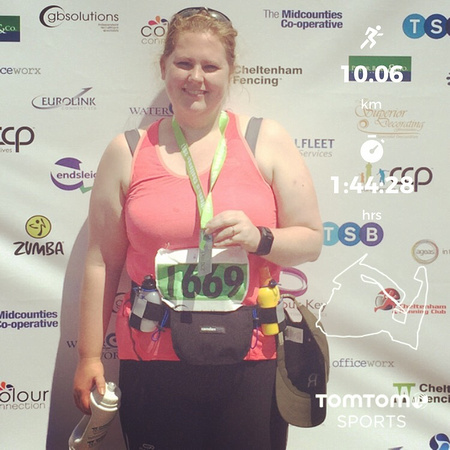 Fast forward to June and not only had clocked up over 50 running miles, I managed to drop to 13.5st but I reached my size 12 dress size goal!
So tomorrow when I get to the Game Fair I'll be a shadow of my former self and it's all down to SUFT. The FB group really inspired me to dig deep and make it the success it's become. I've invested a huge amount of time and effort into the group and it's been amazing seeing the transformation in myself both physically and mentally. Not everything went to the original plan, which resulted in Emma and Kate making some adjustments to SUFT but I've thoroughly enjoyed being part of the journey and being a part of other people's success stories!
At 12pm tomorrow on the Emma Brown Tweed stand, we'll find out who will be crowned SUFT's stars of 2017! I couldn't be any more proud of how far I've come and wonder how on earth I did anything carrying the equivalent weight of 2 big bags of dog food around with me 24/7! I'll be the first to admit, it's not been easy but if you put your all into something and want it bad enough you'll do what it takes to get there and help others do the same too! Whether I'm named a prize winner or not I'll have won so much more in the long run!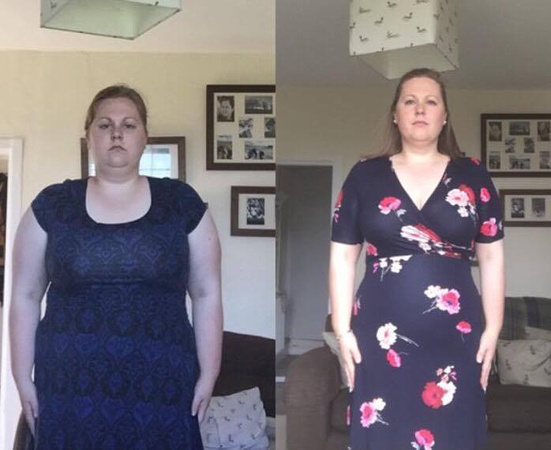 So for now I'll finish by saying a huge thank you to Emma and Kate for not only giving me this opportunity but also supporting and believing in me when I've had the odd wobble along the way especially this week, sorry Emma! To everyone who has supported me in one way or another thank you to you too! You'll know who you are!
Here's to #ShapingUpForTweed and the friends I've made along the way, lets see what tomorrow brings!