As most of you will know I live for my hunting and need to get my weekly hound fix! Well on Saturday I swapped the horses and hounds for guns and gun dogs! Don't worry I'm not being tempted over to the "dark side" as some hunters call it but I do enjoy a change of scenery and a challenge now and again!
On this occasion I'd been commissioned to photograph a local family shoot just outside of Cirencester as a birthday present to one of the hosts from the other guns and beaters. I thought this was a lovely gesture especially from a group of young men!
I arrived at the family home of the host and was welcomed inside for a cup of coffee whilst people arrived. Everyone seemed quite excited to have me there to capture the days activities and atmosphere.
Once everyone was accounted for we headed out side and did a few quick photos on the lawn.
We then headed of to the first drive which was a short car journey away and the group headed of in different directions, some beating the cover at the end of a game strip whilst some walking guns headed up the strip. The first drive proved to be a successful one with plenty of birds going into the bag!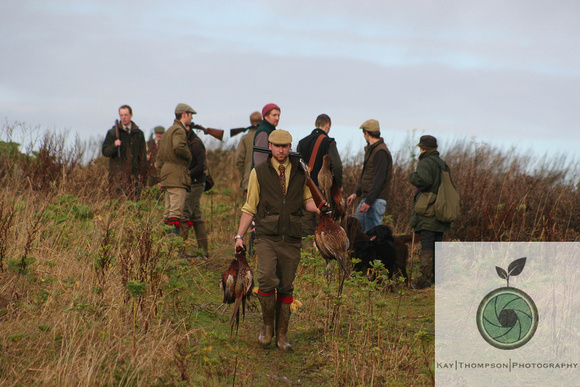 The second drive of the day saw the guns head down into a valley, whilst the beaters drove the birds over head. There was soon a flurry of activity and some impressive shooting added more pheasants to the tally.
There were a variety of different drives which some proving to be more successful than others but it was lovely to see the gundogs working, they clearly love doing their job as much as I do!
The full album from the day can be seen here http://kaythompson.zenfolio.com/p397758729